Banners-CommunityServices
Welcome to Community Shul of Montecito and Santa Barbara Led by Rabbi Arthur Gross-Schaefer, we are an innovative and caring community that enjoys learning and celebrating Judaism together. 

Yom Kippur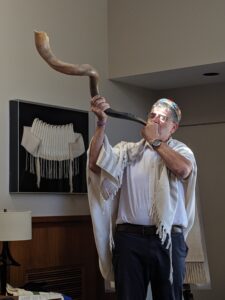 Please join on us for our welcoming and intimate Yom Kippur Services on Sunday, September 24 7:00- 9:30 pm at the Music Academy Of The West 1070 Fairway Rd, Santa Barbara, CA 93108 led by our exciting Rabbi Arthur Gross-Schaefer.
Our services are intentionally creative and emphasize intimate experiences within our caring community. We welcome Jews of all backgrounds as well as interfaith and blended families.
Community Shul is a non-profit organization that depends on the generosity of our community members.   To make a donation please click here  . 
Our High Holidays, Santa Barbara Music Academy of the West, 1070 Fairway Road.
Our schedule is as follows:
o       Yom Kippur Eve                                        Sunday, September 24         7pm-9:30pm
o        Yom Kippur Morning                               Monday, September 25       10am – 12:30 pm
o       Mindfulness Meditation with Renee Golan                                          12:30pm -1:30pm
o       Yom Kippur Afternoon Study Session                                                    2pm – 3:30pm
o       Yom Kippur Afternoon services and Yiskor                                            4pm – 5:30pm
o       Concluding Services                                                                                5:30 – 6:30pm
o       Community Break the Fast nosh after services                                        6:45p