Rabbi Arthur Gross – Schaefer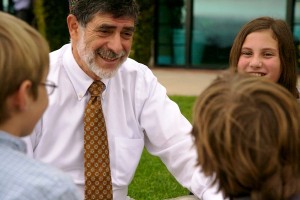 Rabbi Arthur is a very diverse individual whose impact bridges a variety of organizations and touches numerous communities. He is a rabbi, a lawyer, a legal ethicist, a C.P.A., a mediator, a law professor, a writer, an advocate for Israel, a voice for peace in the Middle East, a husband, a father, a friend and a deeply committed Jew. He has been a rabbi in Hollywood, Ojai, and at USC Hillel. He once served as rabbi to Congregation B'nai B'rith in Santa Barbara and carries on an active involvement with them and the other local Jewish congregations as well. Currently, Rabbi Arthur is a professor of business law and chair of the law and marketing department at Loyola Marymount University in L.A. in addition to being the rabbi for our community.
As an educator, rabbi, and lawyer, Rabbi Gross-Schaefer provides leadership and consultation in the areas of religion, public education, and ethics. He has helped new immigrant communities, Native Americans, Quakers, rabbis, and lawyers with issues of burnout, sexual misconduct, and diversity. He has created ethics and wellness audits for rabbis and synagogues; as a respected consultant, he frequently provides guidance on legal issues facing clergy, and is an invited speaker about ethical issues.
As a rabbi, he has also conducted workshops and written on a variety of topics including ethics audits for synagogues, rabbi burnout, dealing with the December Dilemma, and ethical and legal issues facing lesbian and gay couples.
Rabbi Arthur's biggest joy is his family. Laurie, his wife, is an award-winning artist. His sons Elisha, Avi, Yoav and Noah are his "university that teaches him patience, humility and often wisdom."
Rabbi Arthur's email is:  agross@lmu.edu  Phone #: 805 302-1648
Itzik Ben Sasson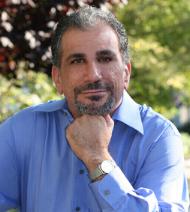 Itzik Ben Sasson is a career Jewish educator who brings his life-long love of Judaism and education to the students he loves. Since 1992, he has lived in Santa Barbara and served nearly every major local Jewish organization in a leadership role.
From 1993 through 1998 Itzik taught Judaism and Hebrew at Congregation B'nai B'rith. From 1999 through 2004, Itzik served as the Youth Director, Jewish Festival Director, and the founder and Director of Santa Barbara's Jewish day camp, Camp Halom, at the Santa Barbara Jewish Federation. He has created, supervised and run an array of programs providing social and educational values for our community and our children, including five highly successful Jewish Festivals, and Twelve summers of our wonderful summer camp.
In 1998 Itzik's commitment to Jewish education became the seed that has since blossomed into the Community Shul of Montecito and Santa Barbara. In 2004 he became the founder and Executive Director of Santa Barbara's Jewish day camp, Camp Haverim, and has led the camp in thirteen successful summers' camps. Today Itzik continues to direct and teach at Camp Haverim and the Community Shul's Religion School program. Itzik is very proud of all the students he has had the joy of working with, but his greatest pride and joy are his wonderful boys, Eetai and Ari.
Debi Lewis
Debi Lewis is our Rabbinic Intern at the Community Shul. A graduate of Gratz College in Philadelphia with a BA in Jewish Studies, Debi is in her third year at the Academy of Jewish Religion, California, as a Rabbinical student.
In addition to interning and her studies, Debi is a teacher for the Florence Melton School for Adult Jewish Education, teaching Jewish Ethics. She is also currently teaching a Practical Judaism class.
What you may not know about Debi is that she has spent most of her career thus far in the IT industry, working for financial institutions. Debi is a Microsoft Certified Systems Engineer, a certified Cisco Network Associate, and a graduate of Pacific Coast Banking School's Master's program. Prior to her Rabbinic studies, Debi was the IT Director of Community West Bank.
A member of Congregation B'nai B'rith for 20 years, Debi has been a guest speaker at the Isla Vista Methodist Church, the Seventh Day Adventist Church, Congregation B'nai B'rith, and Love. Period. Debi has also led and participated in Torah and Interfaith study groups.
Debi lives in Santa Barbara with her partner of 16 years and 3 four-legged furry kids.
Debi's email is:  Debi@Tracidrive.com  Phone #: 805 450-2921