Rosh Hashanah
Rosh Hashanah
Please join on us for our welcoming and intimate Rosh Hashanah services at the Music Academy Of The West led by our exciting Rabbi Arthur Gross-Schaefer.
Our services are intentionally creative and emphasize intimate experiences within our caring community. We welcome Jews of all backgrounds as well as interfaith and blended families.
Community Shul is a non-profit organization that depends on the generosity of our community members.   To make a donation please click here  . 
Thank you for your generosity and support!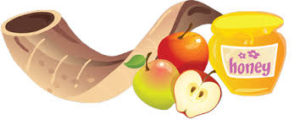 Music Academy of the West  Directions, Parking, & Contact Information
From the North or South
Take Highway 101 to the Olive Mill Road exit.
* Turn toward the ocean (right if from the North, left if from the South).
* Cross the railroad tracks and continue as Channel Drive curves to the right.
* Follow Channel Drive as it passes Butterfly Beach on your left.
* At the stop sign, continue up the hill and follow the road as it curves to the right and becomes Fairway Road.
* Turn Right into the Music Academy of the West at 1070 Fairway Road. Follow the signs for parking.
Parking
Campus parking is free for events and activities held at the Music Academy. Parking spaces along the driveway in front of Hahn Hall are exclusively and entirely reserved/handicapped. Able-bodied patrons will be directed to park in the lower lots.
Directions when you enter the Music Academy campus: Enter the main entrance gate and turn to your right. Your now in the upper parking lot. At the end of this parking lot is the main administrative building – Marilyn Horne Building – which houses the Lehmann Hall. Park either in the upper parking lot or you may go down to the lower parking lot which has a lot of parking. You will then enter the Marilyn Horne Building through its two doors, go a few steps to the hallway and turn right. After another few steps, you will enter the Lehmann Hall. We'll have some members around to help guide you.